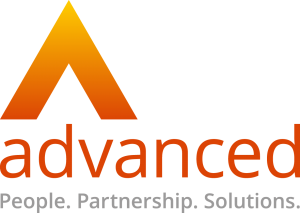 Company & Product Overview
With over 5,500 law firms, barrister chambers and coroners jurisdictions, Advanced Legal is the largest provider of software and services to partnerships in the UK and Ireland.
Our aim is to help our customers improve overall partnership performance, specifically cashflow and profitability by providing modern and easy to use tools to improve efficiency through better workflow, to increase income through better use of data and enhance client service through an integrated approach to practice management.
Designed exclusively for the Legal sector, our software portfolio includes practice and case management (including workflow), electronic forms, customer relationship management (CRM), business intelligence, skills and resource management, document imaging, HR & payroll all underpinned by superior managed and hosted service offerings.
With 30 years of experience and 300 specialist staff dedicated to servicing the needs of our legal customers we pride ourselves on a tailored approach to customer service, evidenced by 95% annual customer retention, amongst the highest in our industry.
Advanced Legal is part of Advanced Computer Software Group, one of the leading supplier of software and IT services to the commercial sector, which represents 35% of the company's revenues. As the commercial sector typically delivers faster lead times than the health and care sector, this part of the business underpins growth whilst providing opportunities for cross-marketing of products and IT services.
Company Details
Company name
Advanced
Main UK Address
Ditton Park, Riding Court Road, Datchet, Berkshire, SL3 9LL
Telephone
0330 404 2189
Email
megan.gronow@oneadvanced.com
Corporate Information
Number of years in the legal market
20+
Trade Associations & Accreditations
LSSA + Microsoft Certified Gold Partner. Progress Software ISV Partner
Target Markets
Sole Practitioners & Small Firms (1-5 partners)
Large High Street Firms (6-10 partners/26+ users)
Commercial Firms (11-20 partners)
City + Major Regional firms (21-50 partners)
Major City + International (51+ partners)
Legal Aid Practitioners
Public/Local Authority Legal Departments
Geographic Markets
England, Wales, Scotland, Ireland and the Republic of Ireland, US, Brazil, Europe, Canada.
Technology Platforms Supported
Web browser
Client/Server
Categories of Products & Services Supported
Financial & Practice Management
Practice Database
Document Management
Diary Management
Case Management
Accounting & cashiering
Time Costing
Billing
Case Management
Conveyancing
Personal Injury
Re-mortgage
Debt Recovery
Family
Probate
Online Systems & Services
Application service provider (ASP)
Client extranets & direct access - via web
Support Systems & Services
Telephone Helpdesk
Online Help
Training
Consultancy
System Architecture design
Hardware supply and installation
Authorised service centre
Field Engineers
Computer Facilities Management (CFM)
Services and Markets
Services
Accounts, Case Management, Legal Aid, Forms
Markets
Single User, Small, Medium, Large, Top 100