LEAP and Yourkeys break the mould and deliver homebuilders a faster and more transparent conveyancing service
Press Release. LEAP UK.
Legal practice management system provider LEAP announces a new technology partnership whereby conveyancers using LEAP software provide their services to property builders via the Yourkeys digital platform. Yourkeys helps to speed up the conveyancing process for home builders by effectively tracking sales and qualifying and onboarding buyers.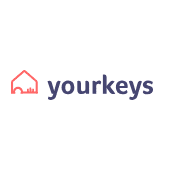 By supporting Yourkeys' objectives of delivering greater transparency, consistency and cost-savings to home builders, the partnership with LEAP provides the home buyer access to an experienced collective of 140 accredited conveyancing firms which provide gold standard service, efficiency through consistency of process, and improved output by fee earner and by firm thanks to the adoption of technology.
This powerful tech partnership quickens the exchange of contracts, delivering home builders efficiencies through Yourkeys' user-friendly platform and providing the buyer peace of mind, knowing that their transaction is being handled by one of over 140 specialists, fully audited, conveyancing firms that are part of the LEAP Best Practice Standard (BPS) network.
The LEAP Best Practice Standard helps law firms achieve and maintain the highest standards of conveyancing, retaining full control and without referral fees. BPS firms receive regular independent audits performed remotely by the Centre for Assessment. These audits provide analysis and reports based on assessments of areas such as client care, anti-money laundering, risk and compliance. The BPS systems and checks also generate cost savings and efficiencies to the benefit of their clients.
Riccardo Iannucci-Dawson, CEO & Co-Founder of Yourkeys comments: "Our partnership with LEAP is an incredibly exciting development for our clients. LEAP is one of the most innovative and forward-thinking products in the legal space. This partnership will add tremendous value to our housebuilder and estate agent clients to connect them directly and digitally to the best conveyancers in the market."
Yourkeys specialises in providing services to home builders allowing them to qualify and onboard buyers in minutes and track sales progression in real-time directly via system integration. This alliance with LEAP will enable home builders to exchange contracts faster, whilst improving the process for buyers.
LEAP Director of Relationship Development Craig Taylor says "With our work with Yourkeys we are leading the way in conveyancing. This service will alleviate the pain of property developers and purchasers alike, simplifying and speeding the newbuild purchase process."
Communication in sales progression and reconciling conveyancing progress has always been an issue which takes lots of time and manual effort. Yourkeys' clients will send instructions to the LEAP Best Practice Standard law firms and receive real-time sales progression updates as cases move forward.
On being the first of many LEAP Best Practice Standard firms to receive an instruction via the Yourkeys' platform, Sue Shaw-Toomey of Toomey Legal Limited adds "We are proud to be one of the first firms in the country to be able to deliver this faster and more transparent service to clients wishing to purchase a new build property, which we are finding is reducing the stress for our clients of buying a new home."
<ENDS>
About LEAP
LEAP is a cloud-based practice management system with integrated time recording, billing and client accounting. LEAP simplifies a law firm's IT infrastructure and provides a world-class system for lawyers and staff to work remotely.
LEAP has been developed specifically for small to medium-sized law firms. The software's powerful features allow fee earners and legal support staff to manage their matters more efficiently and profitably from anywhere, anytime and from any device.
With an investment of more than £8m each year into research and development, LEAP continually strives to deliver a product that meets the demands of its users. This ensures that law firms using the software benefit from affordable, yet highly innovative technology.
Currently supporting over 2000 law firms across the UK and Ireland to streamline their practices, LEAP has offices in London, Manchester, Brighton, Edinburgh, Cardiff and Dublin.
LEAP contact details:
Web: www.leap.co.uk