Legalex 2019 Twitter competition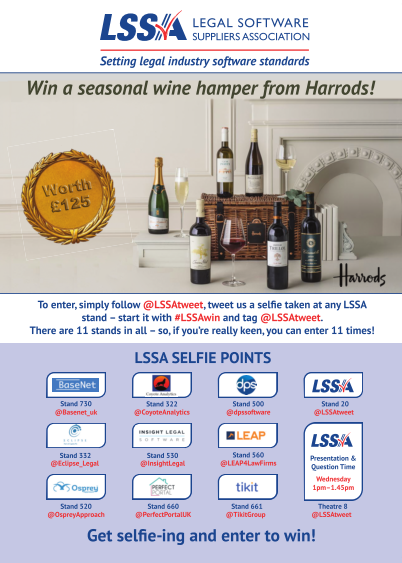 Terms & Conditions:
1, Participation in this competition constitutes acceptance of these conditions of entry.
2, Entry is open to UK and EU residents only aged 18 years and over, excluding employees of any company linked to the competition in any way.
To enter, entrants must:
Use the Twitter service to "tweet" a photograph of themselves in front of an exhibiting LSSA member stand (see list of members below) at the LEGALEX event on 27th and 28th March 2019, or at the LSSA "Question Time" on 27th March at 1pm at Theatre 8.
Follow @LSSAtweet and give permission to be contacted to inform the winning entrant.
The image must clearly show the exhibitors stand or the LSSA question time panel.
Within this tweet an entrant must

use the competition hashtag #LSSAwin
mention the LSSA Twitter handle: @LSSAtweet
3, Multiple entries by tweet/images at different LSSA member stands are limited to one entrant per stand. The maximum number of entries per person being 11.
The LSSA exhibiting members are:
4, LSSA accepts no responsibility for late, incomplete, incorrectly submitted, corrupted or misdirected entries, claims or correspondence, whether due to error, omission, alteration, tampering, deletion, theft, destruction, transmission interruption, communications failure or otherwise.
5, The competition commences at 10:00 March 27th and closes at midnight on March 29th. Qualifying tweets must be published within this timeframe.
6, The prize draw will take place within one week of the competition closing.
7, The LSSA will use a random number generator to select the winning entrant from qualifying entries.
8, The winner will be notified on or by 4th April via a tweet or mention on Twitter by @LSSAtweet
10, There are no cash alternatives to the prize offered. If, for any reason, the prize is not available, LSSA reserves the right to substitute another prize for it, in its sole discretion, of equal or higher value.
11, LSSA reserves the right to refuse to accept and/or to remove any entries deemed not to comply with the terms as set out herein. If any element of an entry breaches these terms, LSSA has the right to reject the whole entry.
12, LSSA and its associated agencies and companies will not be liable for any loss (including, without limitation, indirect, special or consequential loss or loss of profits), expense or damage which is suffered or sustained (whether or not arising from any person's negligence) in connection with this competition or accepting or using the prize, except for any liability which cannot be excluded by law (including personal injury, death and fraud) in which case that liability is limited to the minimum allowable by law.
13, These terms and conditions are governed by English Law and shall be subject to the exclusive jurisdiction of the English Courts.